Imagine this: You get a call by much-revered company for a job interview out of the blue. As you enquire about how they came across your profile, you see something unexpected: "A bot looked up your profile on social media." You may think that this is made up, but this is the reality now.
We all know that in HR, using software technology is nothing new. However, what's disrupting the space is the intensity and the degree to which software tools and technological innovations are fast-replacing common HR tasks. Chatbots are being deployed to source and screen resumes, schedule interview appointments, engage and manage candidates, answer employee concerns in real-time, etc.
At this point, you may be wondering: "Can HR softwares truly imitate and perform as well as the intuitive human mind?"
The operative word being intuitive, we have one word for you. Yes. In fact, in some ways it can perform even better. In a series of firsts, Mettl, a talent assessment company, developed a diagnostic tool to understand an employee's emotional traits. How so? By way of psychometric, aptitude, and coding tests.
The point we're driving at is this: The benefits of embracing a "technology-first" mindset to the intrinsically physical requirements of the HR world include:
Recruiting talent in an unbiased manner.
Freeing up resources by taking care of repetitive and redundant tasks.
Providing insight into performance, attrition prediction, and unethical employee behaviour among others.
Acquiring the right talent for the right job roles by data-driven analytics, and helping retain them by monitoring their performance.
Adding meat to the matter is a recent report by Deloitte which suggests that 53% of companies are revamping their HR programmes to deploy digital tools, a staggering number at that. Plus, 22% companies are using AI to assist with HR decisions. The message that's emerging is clear: Cognitive software tools are here to stay with some experts even calling it as the "dark horse" of the HR domain.
Did you know?
Bajaj Allianz General Insurance company uses an automated video interviewing solution to hire employee's and leverage psycho-linguistics to analyse candidate response in order to build candidate behavioral profiles.
To this end, we will list the top 10 software suites that organisations can integrate into their HR system and enjoy a host of benefits:
1. Gain HR Credibility with "Kredily"

Who is it apt for?
Companies looking for a full-service intuitive Payroll & HR software at no upfront cost, rejoice! Kredily is here to cater to all your HR needs free-of-cost. This easy-to-use software comes power-packed with useful features such as automated payroll processing, customizable leaves, attendance, and shift features, web clock-in/out etc. Plus, it helps save time and encourages resourcefulness for time-consuming repetitive HR tasks such as answering employee queries.
Why you should use it?
It is India's first "free forever" HR software offering a host of intangible and tangible benefits. For instance, it has unlimited salary structures you can access in seconds. In terms of the intangible benefits, it reduces human-error, decreases pay-roll time from days to minutes, frees up hours spent filing applications and documents by automating employee onboarding process, and helps businesses to digitally store all necessary documents, etc. Plus, the ESS portal helps employees to raise leave requests, and check company policies among other things. In case of tangible benefits, it can help save 4 working days per month by automating mundane and repetitive tasks, an asset you really can't put a number on.
2. Embrace the HR Gray Matter with "GreytHR"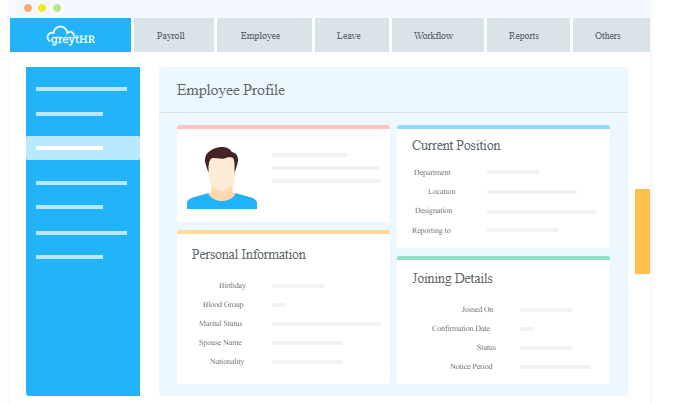 Who is it apt for?
HR professionals looking to streamline processes and save time, GreytHR is for you. For example, if your work requires employees to travel a lot and work in remote areas, capturing accurate and real-time attendance may be your primary concern. This tool helps you do just that and that too without depending upon third-party attendance hardware systems and their associated costs.In addition to this super useful feature,it offers a stream of services such as payroll, HR software, leave management, attendance management, Employee Self Service, and mobile app for employees, etc.
Why you should use it? Its fully-functional employee portal app allows users to access key information at the click of a button. This includes applying for leaves, accessing income tax-related information, viewing payslips, etc. The most innovative feature is its "Geo Mark Attendance Marking" aspect that enables your employees to be signed in and signed out the moment they arrive and leave predefined location coordinates. Note that this could include multiple office locations, on-site client locations, vendor offices, etc.
3. Keep up with HR Needs with "Keka"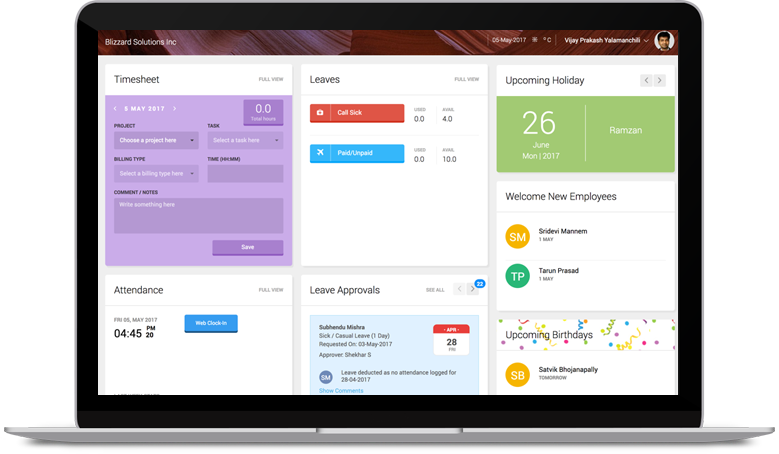 Who is it apt for?
For HR Managers who like to keep it simple and sorted, Keka is the ideal fit for them. It is a comprehensive and easy-to-use payroll software that offers rich payroll features with you being in control, an intuitive platform for managing intelligent talent, a new-gen way of monitoring performance and growth, and a collaborative tool with applicant tracking system benefits.
Why you should use it?
"Keka was born out of frustration from using HR software that sucks" – this is the self-proclamation on Keka's website that's oddly relaxing. Keka is a payroll software that finds inspiration from customer feedback, wholly and solely. You know what that means right? The HR software tool understands the user's concerns, complaints, and requirements better than anyone, having walked in the customer's shoes (quite literally in this case).
4. At the Apex of HR Innovation: "PeopleApex"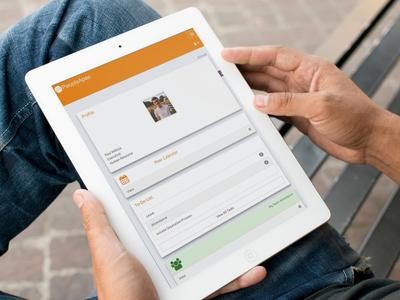 Who is it apt for?
Are you looking for a product that empowers employees and managers, all at the same time, and is designed by industry experts? PeopleApex is the people's choice then. PeopleApex is an integrated, end-to-end SaaS HRMS solution that empowers employees with robust employee self service (ESS) and provides a holistic view for managers with manager self service (MSS).
Why you should use it? For starters, it is many things: multi-country in deployment, multi-language in implementation, and multi currency in approach. With its in-depth HR & Payroll expertise, you can customize your needs on a global scale, configure modules quickly, transform talent strategies, and collaborate better with Cloud like never before. Before long, you'll be managing resources and nurturing talent with all integrations and customizations possible, isn't that a welcome change!
5. Branch Out your HR Solutions with "BambooHR"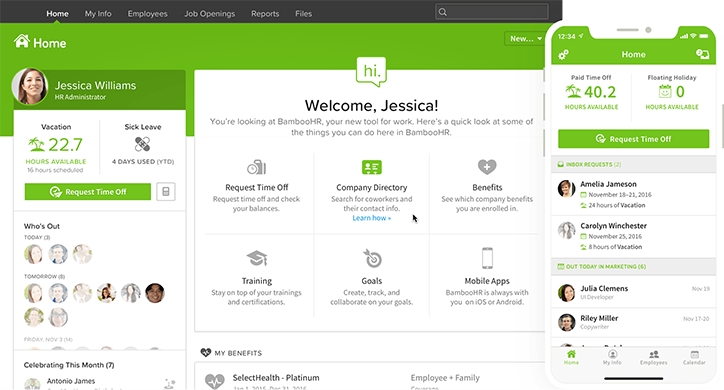 Who is it apt for?
It is best-suited for Small and Medium-Sized Businesses looking for a compact HR tool that helps implement a systematic HR process and develop a responsive system in place. It includes unique features such as online applicant tracking system, people data and analytics, onboarding emails, hiring, compensation, performance management, etc.
Why you should use it? It's an affordable software that provides exactly what SMBs need and does away with the excess. After all, no one wants to pay for services they don't need. The best feature perhaps is the reporting dashboard that offers an insight into hiring, performance, and engagement that can directly affect an organization's bottom line. Simply, BambooHR is a custom-made HR tool catering to the needs of small-sized businesses. Its customer base comprises over 89 percent SMBs. It wouldn't be wrong to assume that they're industry experts in the "HR for small businesses" domain in their own right. As far as their track record goes, the software has been offering award-winning solutions that are intuitive, clear, and easy-to-use for the last couple of years.
6. Gather HR Gusto with "Gusto"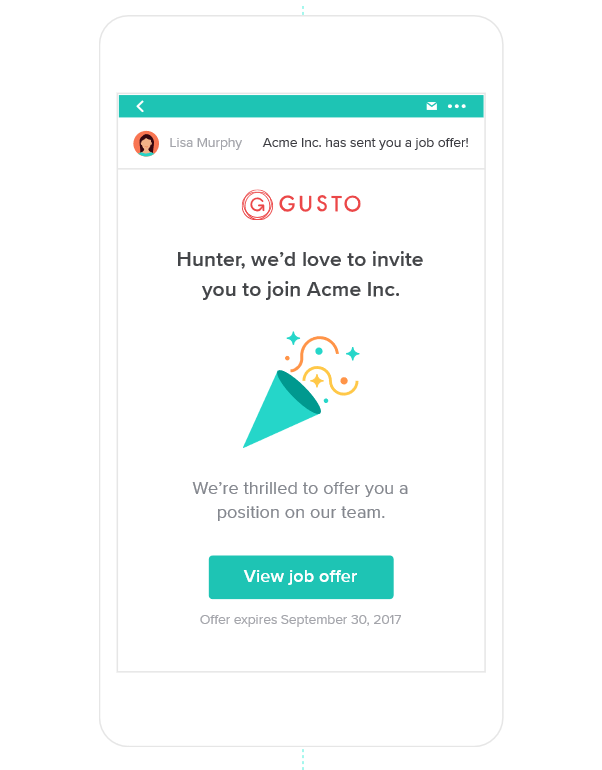 Who is it apt for?
Tech-savvy Managers looking for creative and motivational ways to inspire their workforce should go for the "gusto way of HR life (pun intended). Gusto offers an HR management software that empowers companies to manage end-to-end compensation on screen, and integrates HR, payroll, and benefits into a centralized, single system.
Why you should use it?
At Gusto, customization is not just an adjective. It's one of those few-and-far-in-between HR platforms that enable users to personalize the features and cater to their HR needs. For instance, you can integrate your existing benefits plan. Plus, it has pioneered and introduced a unique suite of benefit schemes such as (HSA, health insurance, 401(k)s, and 529 college savings) that ensures that every employee is always on their radar. That's not all. It is HIPAA, ACA, and ERISA standards-complaint andalso offers tailor-made plans guided by reputed brokers for a seamless and optimized performance. The numbers say it all. Around 75% of its customers boast being able to run payroll in 10 minutes or less.
7. Track your Employee Stars with "Trakstar"
Who is it apt for?
Data, data everywhere, not a drop to dig into.Every organization, big or small, sits on a data gold mine that seldom gets reviewed, especially if that data is coming from the biggest asset of an organization, its people. So, if performance management and engagement tools are on your mind, it's time to try trakstar. Trakstar is a Cloud-based, employee appraisal software that helps align company goals with employee goals, gives instant feedback to employees, and basically, streamlines the process of reviewing employees with near-perfection standards.
Why you should use it?
This Cloud-based tool can be accessed anytime, anywhere, and provides flexible workflows to cater to your needs. Plus, it provides a real-time journal that offers feedback and ensures optimized review processes, goal accountability, succession planning, real-time reporting, among other benefits. Say goodbye to those arduous and time-consuming hours spent scribbling down and printing out an employee's performance with Trakstar.
8. When in HR-Related Doubts, Go with "Zoho People"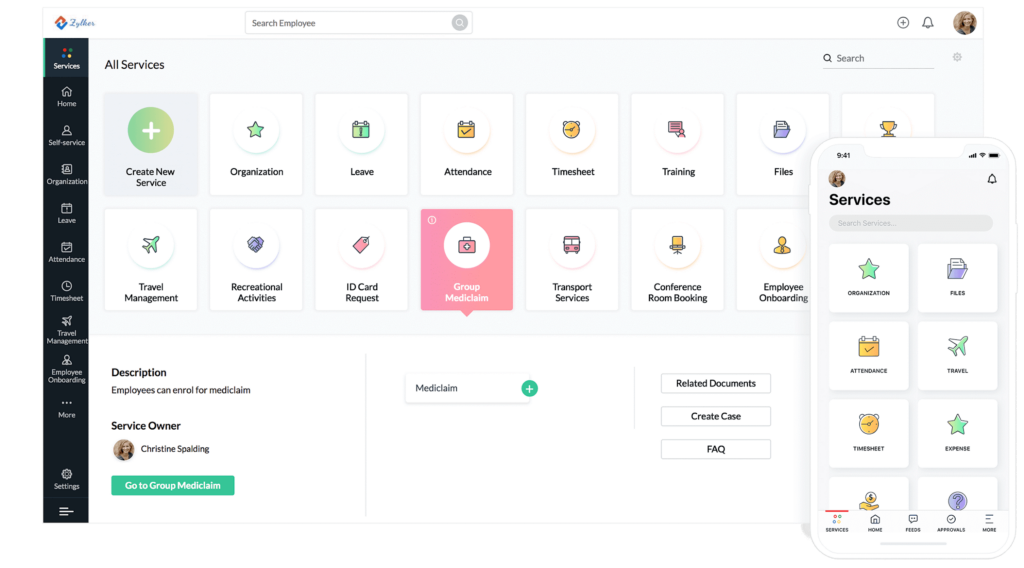 Who is it apt for?
Zoho People is a 360 degree HR solution that enables users to integrate it with their favourite apps as seamlessly as possible. It is especially useful for large-scale business which require data access across the organizational levels.
Why you should use it?
Zoho People is an HR tool that strives to offer a "consumer-like" experience and brings HR services to one centralized place. An interesting feature is the "time tracking" option which automatically calculates how much time was spent on a particular project. With a laser eye focus on self-service options, it actively engages employees to get everything they need while freeing up your HR team for more strategic-driven tasks that require decisive-skills and creative thinking. Furthermore, it helps reduce costs, save time, and align your HR goals with greater professional accuracy.
9.  Gain Fresh HR management Perspective with "Freshteam"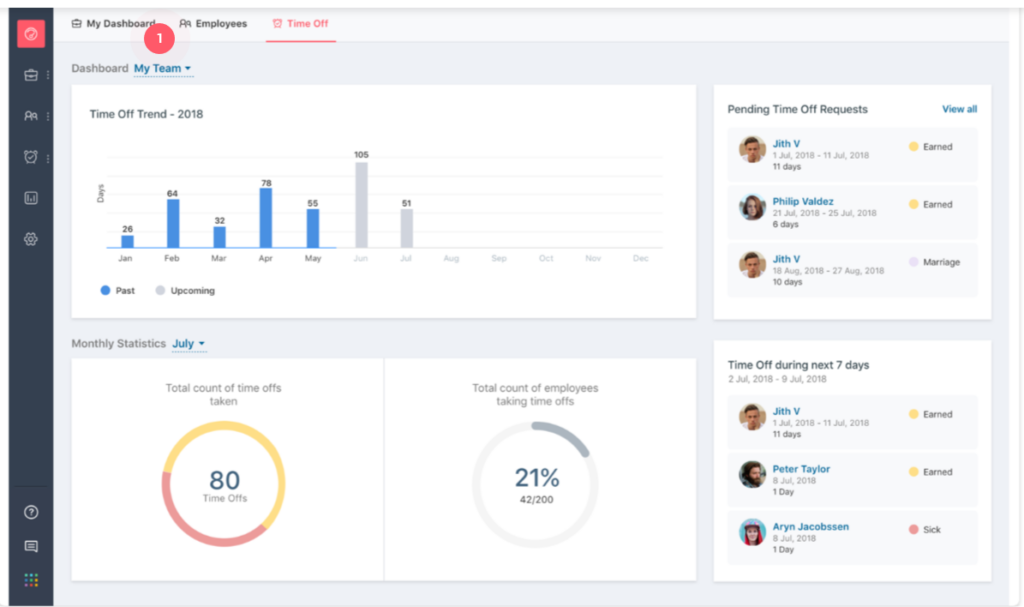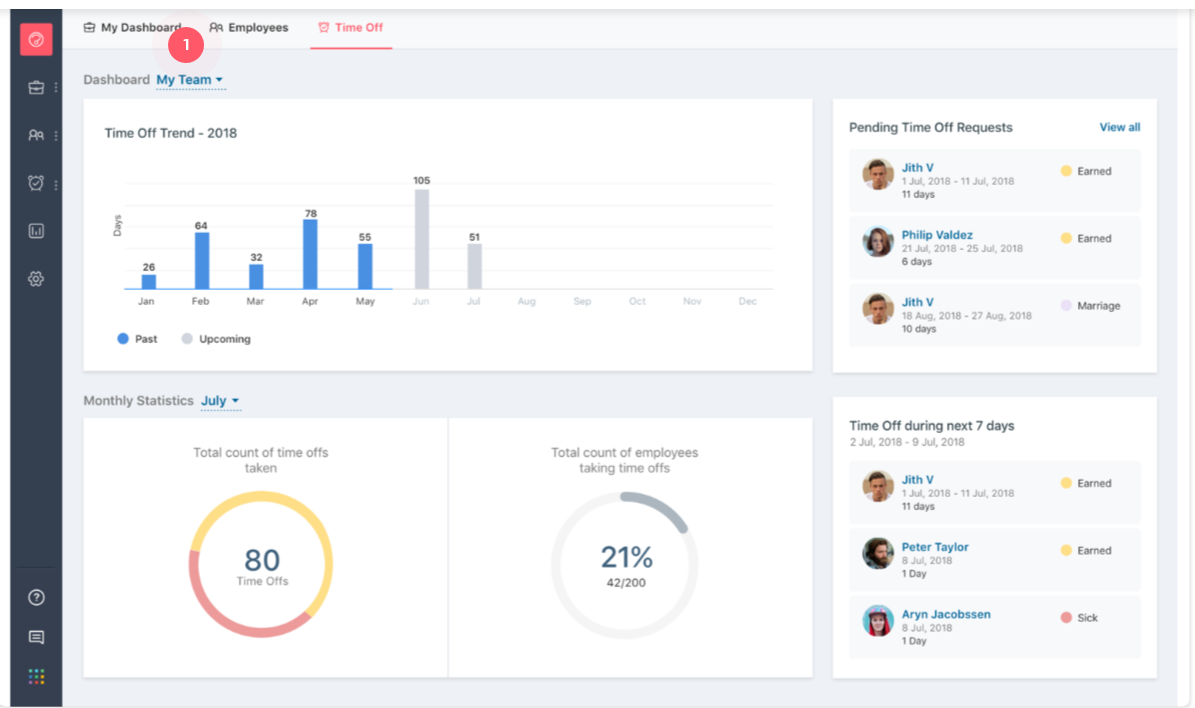 Who is it apt for?
Finding top-notch talent was never this easy. With the Freshteam software, managers can consolidate data about promising candidates, thereby speeding up the review process. Plus, it comes with a secure and unified database for you to keep all records as safely and systematically as possible.
Why you should use it?
With an in-depth and inside-out understanding of "all things recruitment," the Freshteam tool allows recruiters to handle the applicant tracking process with greater ease. From job requisition management and creating job posts to screening applicants and scheduling interviews, this tool is sure to become every HR Manager's best friend.
10. Survive any HR Storms with "DarwinBox"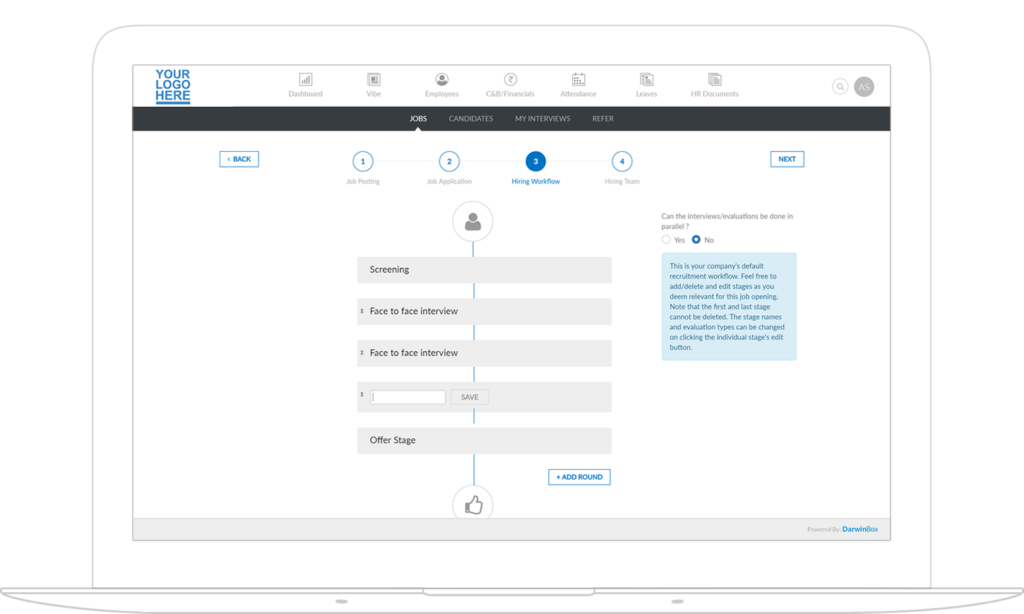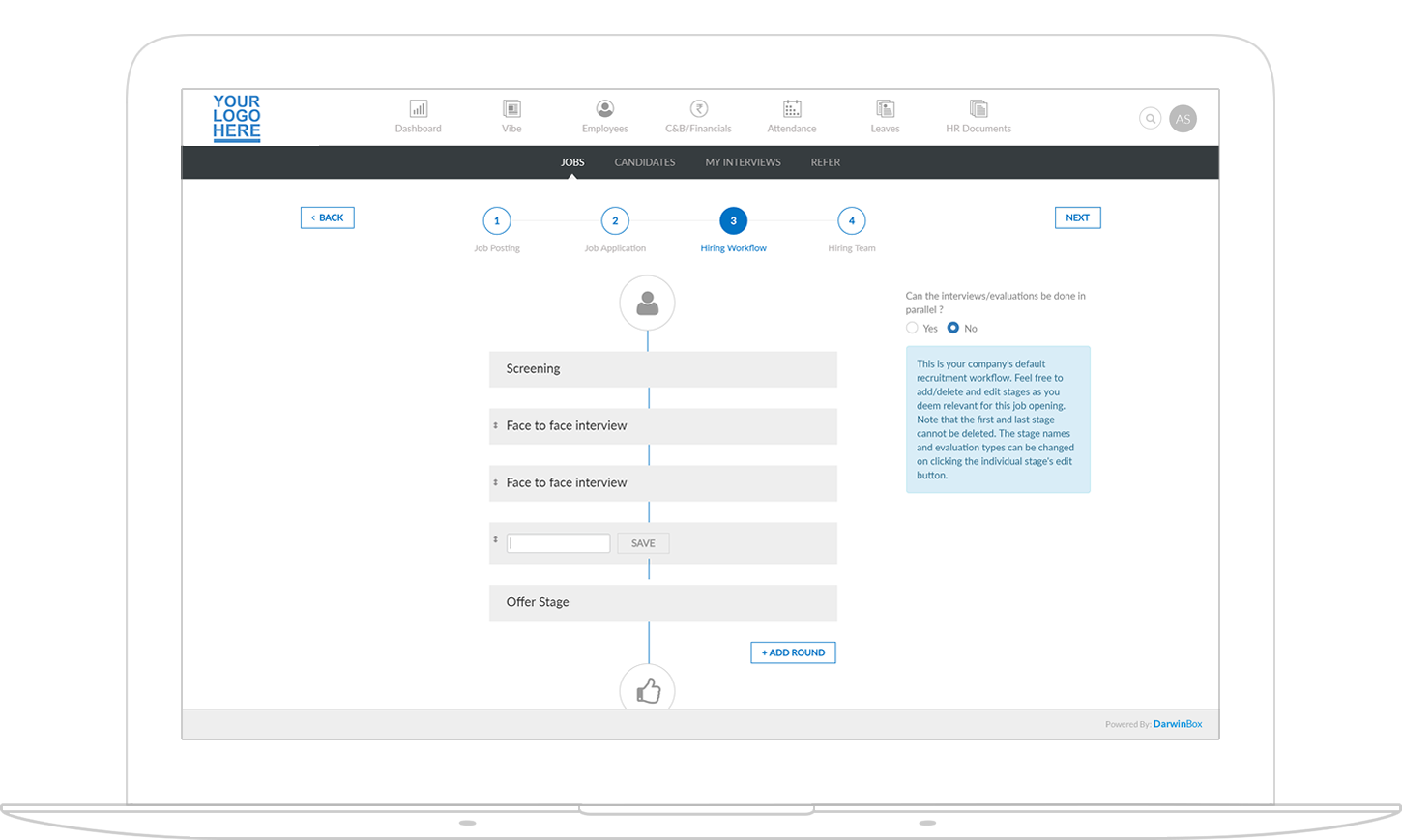 Who is it apt for?
HR professionals looking to manage the entire employee lifecycle on one unified platform should opt for DarwinBox. Its key services include recruitment, on-boarding, key HR, payroll, time & attendance, talent and expense management, HR workflow, employee engagement, etc.
Why you should use it?
It caters to both strategic (performance, engagement, etc.) and transactional (compensation, benefits, self service, applicant tracking, etc.) characteristics of an employee's lifecycle at a company. Plus, it is light and extremely user-friendly making it an instant success in the HR management circles.
The software tools you've just read about are shaping and redefining the HR industry, one unique feature at a time. All in all, if you wish to shift your energies from routine work into a more strategy-driven, value-added one, get your hands on any of these hr management softwares that can cater to all your HR needs. If we were to sum it in three words: These softwares are "people's person" technologized! Wouldn't you agree?