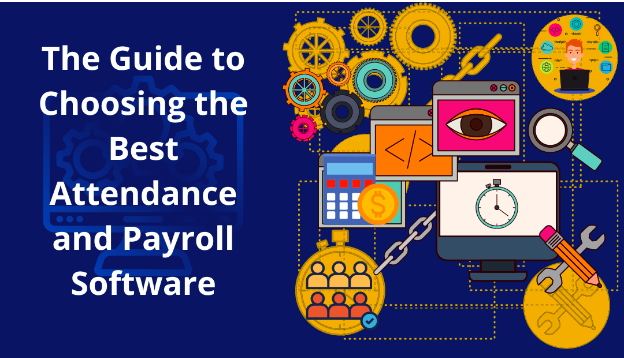 Organizations need every advantage in today's fast-paced and competitive business environment to stay ahead of the curve. This is where HR software solutions come in handy. These applications streamline company operations and help businesses save time and money by automating HR processes. These programs can easily handle these tasks, saving you time and effort. There are many benefits of using HR software for your company. It's a user-friendly system accessible from any computer or smartphone so you can access it anytime. If you operate a business with several employees, we have outlined some pointers on how to choose the best Attendance and Payroll software for your business needs.
What is HR Software?
HR software is a set of computer applications designed to streamline the hiring process, manage employee records, and track employee attendance and payroll information. It is also known as enterprise HR software or business HR software. HR software is also often integrated with other back-office software, such as payroll software, employee training software, and human capital management software. If your company grows and the number of employees increases, you need not replace your current HR software as the latest software is a robust system that can scale with the business. 
More advanced HR software offers more functionality, such as sending employee feedback surveys, creating employee schedules, and sending employees electronic pay stubs. HR software includes modules for employee onboarding, employee records management, employee self-service, employee absence management, benefits administration, and recruitment. When choosing HR software for your business, it is crucial to select a system that supports the core business processes of your organization. HR software providers offer several types of products. Some are built for specific industries, such as retail, hospitality, or manufacturing. Others are designed for specific company sizes, such as mid-size businesses or enterprises.
Why Should You Use HR Software?
HR software helps you to manage employee records and other HR functions, streamlining processes and eliminating paperwork. You can also integrate this software with your payroll system to make payroll processing easier. You can manage job postings, create job descriptions, and screen candidates as this software helps improve the hiring process. This software can also help you create employee onboarding templates to assist in employee orientation. HR software also lets you manage employee records and conduct employee reviews. This software can help you manage absence records, create absence reports, and manage compensation plans and benefits, such as health insurance and retirement plans. You can also use this software to provide employee training.
Types of HR Software
When choosing the best HR software for your business, it is essential to select a system that supports the core business processes of your organization. Here are some of the most common types of HR software. 
HR Management Software: This type of HR software helps businesses manage all aspects of their human resources, including employee onboarding, benefits management, absence tracking, and performance management. 
Employee Self-Service: Employee self-service software allows employees to access their information and complete specific tasks such as marking attendance and requesting time off. Attendance and leave management software is a type of software designed specifically for this purpose. 
Employee Onboarding: An employee onboarding software solution assists with hiring, from posting job listings to managing candidate interviews. This software can also help with employee training. 
Payroll Software: A payroll software solution lets you manage payroll for your employees. This software automates your payroll process and offers employees access to their payroll data and self-service processing with just a few clicks.
3 Steps to Finding the Right Software for Your Business
When choosing the best HR software for your business, it is essential to do your research. You can start by creating a shortlist of potential software vendors. You can also thoroughly review these products to narrow down your selection. Here are some tips to help you select the best HR software for your business. 
Assess core business processes: Before selecting the right HR software for your business, you must understand the company's core business processes. You can protect yourself from falling into the trap of false promises. And it will help you select a software solution that can handle these processes. 
Assess current processes: You can also assess current processes to see if you can automate them with an HR software solution. By checking this, you can ensure about selecting a software solution that can handle these processes. 
Examine vendor offerings: Once you have narrowed down your selection, you can start examining vendor offerings. Here, you can find the best software solution to handle your business's core business processes within your budget. If you are looking for a robust HR software solution designed for small and medium businesses and offers a wide selection of integrations, making it a good option for businesses that need to integrate their HR software with other applications, Kredily is the answer. Kredily HR and Payroll software offers an easy-to-use interface with several valuable features.
Sign up for Kredily HRMS & Payroll – Free Forever Basic Plan